Hope Church has as its foundation the Christian Reformed Church, a 150 year old Protestant denomination that emphasizes the centrality of the Bible and the all-powerful care of God.
The word Reformed means that the church is aligned with that historic branch of Christianity called Presbyterian in Scotland, and Reformed in continental Europe. The denomination has nearly 1,000 churches in North America. Many Christians are familiar with "Reformed" writers R.C. Sproul, Tim Keller, Mark Driscoll, J.I. Packer and John Piper.
The Early church was like a single trunk of a tree. After about 1,000 years of growth, the trunk divided into two major branches – the Eastern and the Western Churches. In 1517 the Protestant Reformation divided the Western (or Roman Catholic) church into several new branches. One of these Reformation branches, formed under Martin Luther's influence, was called the Lutheran Church. Another branch developed under the influence of Ulrich Zwingli, and later John Calvin. These churches were called "Presbyterian" in Scotland, and "Reformed" in continental Europe.
Reformed churches flourished in the Netherlands and Germany. In the early 1800's, some of these Dutch Reformed people moved to the United States, and in 1857 they started the Christian Reformed Church in North America.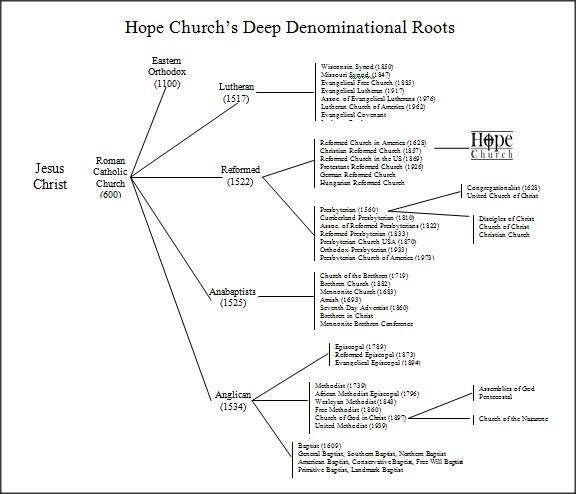 Today, the Christian Reformed denomination is made up of many peoples: Korean, Navajo, Cambodian, Vietnamese, Hispanics, Anglo and African Americans.
The Christian Reformed denomination initiated and cooperated with 20 other denominations in the production of The New International Bible, an accurate Bible translation in twentieth century language. The denomination has over 320,000 members and over 900 churches, nine of which are in Texas, with three in Houston. The denomination owns and runs Calvin College in Grand Rapids Michigan, which has over 4,000 students. It also supports a Bible college, and five other Christian colleges, and has its own seminary. It has a worldwide ministry outreach in 30 countries through Christian Reformed World Missions and World Relief.
For more information you can visit the national website at www.crcna.org.