Weekly Groups to encourage you!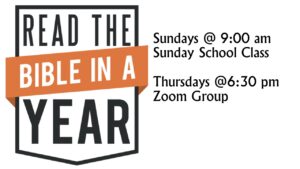 As a church, we are encouraging our members and friends to read through the Bible in a Year. The reading assignments began on April 25 but you can join at any time.
A Small group meets during the week to discuss readings and ask questions about what they are learning. One class meets on Sunday mornings at 9 am and another by zoom. Contact the church office if you are interested in joining the Zoom class and need the link.
Sundays at 9:00 am
Two Sunday School classes are currently meeting for adults. One of the classes will be discussing the Reading Through the Bible series and the other class will be on varying topical/Bible studies.
Both classes are open to all and meet in the Education building.
Wednesday Night Small Group
In person at Hope Church in the Education Building
Join others to dig deeper into the Word each Wednesday night. Small group led by Pastor Greg.
Wednesdays at 6:30 pm
Hopeful Men's Prayer Group – Mondays at 6:15 am at Panera Bread (El Dorado Location)
Men's Fellowship Breakfast – 3rd Saturday at 9 am
Bible Studies on Thursdays will resume in the Fall. Summer Getaway Groups will be meeting throughout the summer. Contact the church for more information.