Weekly Groups to encourage you!
Summer Bible Study Group for Women
Sunday afternoons at 5 pm – Join other women for a Zoom Class starting June 28. See more information on the Women's Ministry Page.
Sundays at 9:00 am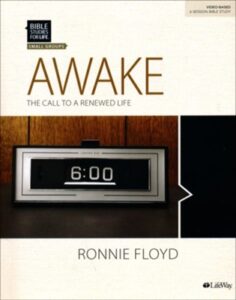 Don't sleep through your spiritual life. Wake up! Nothing refreshes like a good night's sleep. And who doesn't enjoy the occasional afternoon nap?
In at least one way, though, sleep is not good for us. In fact, it can be dangerous. I'm talking about being spiritually asleep. Life has a way of lulling us to sleep spiritually. If we allow ourselves to settle into a spiritual snooze, after a while we simply wither spiritually.
It's time to wake up!
Our greatest need as believers—your greatest need as a follower of Christ—is to experience spiritual renewal from God. That's the whole point of this study. I must warn you, though: this is not a study for those who want to maintain the status quo. When the Holy Spirit begins to bring renewal in our lives, things will change.
We will look at several places in the Bible where God called people to return to Him. Those passages are a call for us, as well—a call to experience revival and awakening both personally and in our churches.
When people have turned back to God throughout history, He has done extraordinary things and sparked great movements. Wouldn't you like to see God do that again? Join others on the journey of asking God to bring about the next great movement of renewal and turning the nations back to Him.
Wednesday Night Small Group
In person at Hope Church OR Via Zoom – Contact the church for link to Zoom
Join others to dig deeper into the Word each Wednesday night. Small group led by Pastor Greg.
Wednesdays at 6:30 pm
Weekend Groups to encourage you!
Weekly Prayer Group by Zoom – Mondays at 6 am
Contact the church for Zoom link.
Men's Fellowship Breakfast by Zoom – 3rd Saturday at 9 am
Contact the church for Zoom link.
Clear Lake North
1st & 3rd Sunday Nights
Home Group
This group meets for study once a month and fellowship once a month. Most of the members are retired and enjoy the company of others. Call the church office for more information. This group is led by Bill & Irene Shaver