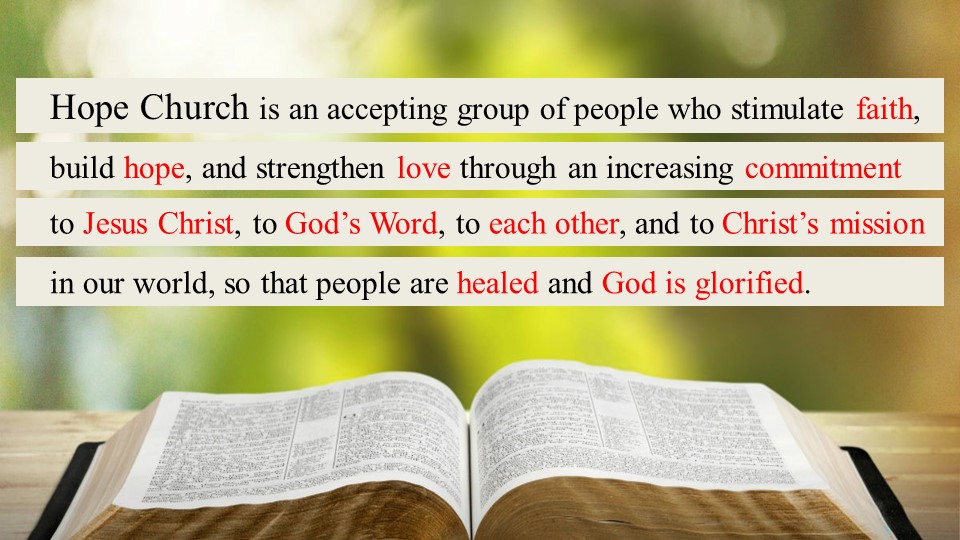 We believe the Bible to be the infallible, inspired Word of God and the only rule for faith and our daily living
We believe in the triune God who has revealed Himself as one God in three Persons:Father, Son, and Holy Spirit.
We believe that all men are sinners and cannot be restored to fellowship to God by any power of their own.
We believe that God in love sent His only Son, Jesus Christ, into the world to die on the cross for our sins, and that Jesus rose from the dead, and is now our Mediator with the Father, and that He will return visibly on the last day to judge all men.
We believe that God will accept all who repent of their sins and believe that the finished work of Jesus Christ is the only basis for salvation.
We find faith beautifully expressed in John 3:16…
"For God so loved the worlds that He gave His one and only Son, that whoever believes in Him shall not perish but have eternal life."
Hope Church is a member congregation of the Christian Reformed Church in North America.
Beliefs
We call ourselves the Christian Reformed Church in North America. What does that mean?
We call ourselves Christian because we are followers of Jesus Christ. We believe that Jesus was the Son of God and that he is the center of human history.
We're called Reformed because we grow on a branch of the church tree that emerged from the Protestant Reformation in sixteenth-century Europe.
We're a Church because we believe God has called us together to be a people who belong to him and live for him.
North America tells you where we are situated; but it also tells you we're connected with other Reformed denominations in other places around the globe.
What unites these diverse people across North America? What binds them into one entity?
Among other things, we agree on certain core beliefs. That is one of the reasons we gather to worship and to work, pursuing God's plan for this world. We believe in the Bible as the authoritative Word of God. And we speak with a Reformed emphasis.