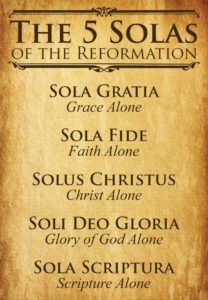 500 The Reformation
October 22 Christ Alone
October 29 The Reformation 500 Years Later:
Dr. Benjamin Phillips – Southwestern Seminary
November 5 Grace Alone
This message series celebrates the 500th year Anniversary of the Protestant Reformation. Many people have heard about the Protestant Reformation. They have heard about Martin Luther nailing the 95 theses on the church in Wittenburg Germany. What really happened? This series will address why the REFORMATION was such a formative event in the history of the church. What the Reformation did theologically was to call the church back to five major themes of scripture known as the Five Solas. Solas is the Latin word for alone. It is the scriptures alone that teach us that we are saved by grace alone, through faith alone, in Christ alone, and this is all for the glory of God alone. We will focus on these five solas in our three week series. We are very excited to have Dr. Benjamin Phillips from Southwestern Seminary, Houston Campus to bring the message on October 29.
Sunday morning Worship Services
at 10:30 am