Children's Sunday School – Sunday 9 AM

Each and every Sunday, we weave God's Word into kid's lives with engaging activities, small group Bible Study, and building friendships through life-changing conversations.
Children's Worship Sunday 10:30 AM

Kids in Pre-K through 5th grade have "kid-size" worship! We will be going on a whirlwind journey from Genesis to Revelation in just one year! We will experience a relationship with God through the eyes of ordinary Bible people. We will discover that we're a lot like people God has always loved and just like them, He can work through us!
Nursery – Birth -2 years old
The nursery is located in Room 10 in our Christian Life Center. Children will be received 15 minutes prior/following a scheduled event.
Sunday, 8:45 am – 12 noon
Wednesday, 6:15 – 7:45 pm
Other events as scheduled.
Preschool and Pre K
Sundays 8:45 am – 12 noon
God's Word comes alive for preschoolers through fun, songs, crafts, and Bible Stories. Our teachers are here to partner with you to develop a love for God and a desire to learn about Him.
This is a great opportunity to plant the first seeds of faith into your children while you attend Worship Service or Adult Sunday School.
Hope Children's Ministry is committed to teaching and ministering to Pre K to 5th grade children and their families. Our desire is to guide children through Bible study and various activities to experience a personal relationship with God. We are committed to building a partnership with parents to provide a total ministry to children.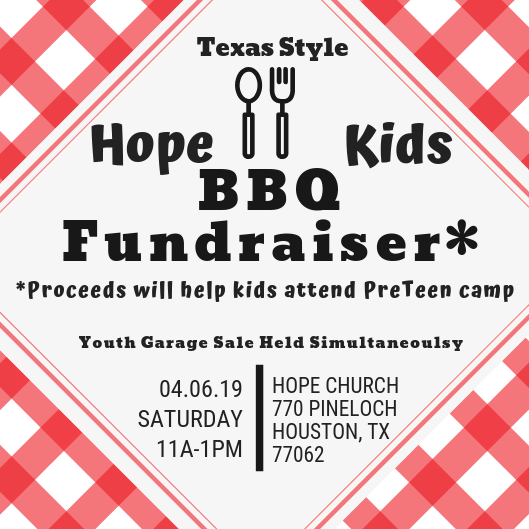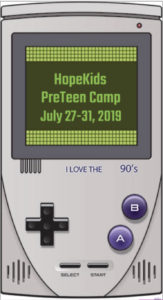 Signup for PreTeen Camp is coming soon!
Club 119 Children's Wednesday Night September to March 6

Club 119 is a discipleship program for children PreK to 5th grades. We start by meeting in the gym for fun and games, and then we connect in small groups. This is a great opportunity for your child to grow in their faith each and every week throughout the school year.